President – Dale Orchard
First Vice-President – Jack Thornburg
Second Vice-President – Delbert Gannon
Chief Financial Officer - Kathie Muse
Secretary – Monte Adams
Conference Support Chair – Bryan Taylor
Conference Education Chair - Delbert Gannon
Past President – Jim Henson
Past-Past President - Ted James
Executive Director - Monte Adams
Bylaws Chair – Jerry Evans
Conference Development Chair - Ted James
Members At Large - Keith Foster, Mark Lathrop, and Frank Muse
Monte Adams **
Retired
Redding, CA 96001
Don Beaty **
W. M. Beaty and Associates, Inc.
Redding, CA 96099
Jerry Bryant **
Redding Freightliner
Redding, CA 96002
Matt Cheula
Hearst Forests
McCloud, CA 96057
Chris Chitwood
Tri Counties Bank
Redding, CA 96002
Jad Dickson
Fruit Growers Supply Company
Hilt, CA 96044
Patrick Emmert **
Southern California Edison
Shaver Lake, CA 93664
Jerry Evans **
Retired
Windsor, CA 95492
Keith Foster **
Eddie Axner Construction
Redding, CA 96003
Delbert Gannon
Creekside Logging
Redding, CA 96002
Jeremiah Gladden
Wood-Land Expansion, Inc
Pioneer, CA 95666
Marcos Gomez
Mountain F Enterprises Inc.
Lotus, CA 95651
Jim Henson **
Land Vest
Weed, CA 96094
Jeff Holland
CTL Forst Management Inc.
Placerville, CA 95667
Robert Hoover
Sierra Pacific Industries
Lincoln, CA 95648
Sherry James
Anderson, CA 96007
Ted James **
Sierra Pacific Industries
Redding, CA 96049
Tom King **
Western Truck Parts & Equipment
Redding, CA 96003
Greg Kostick
Trinity River Lumber Company
Oroville, CA 95966
Mark Lathrop **
Sierra-Pacific Industries
Redding, CA 96049
John Livingston
Shasta College
Redding, CA 96049
Harold Mason
Crane Mills Inc.
Corning, CA 96021
Joe Miller **
Trinity River Lumber Company
Weaverville, CA 96093
Frank Muse **
Muse Trucking
Redding, CA 96001
Kathie Muse **
Muse Trucking
Redding, CA 96001
Dale Orchard
Tri Counties Bank
Redding, CA 96002
Jim Ostrowski
Jim Ostrowski Forestry
Mt. Shasta, CA 96967
Carol Perea
Anderson High School
Anderson, CA
Zane Peterson
Peterson Timber
Cottonwood, CA96022
Mike Quinn
KLXR
Redding, CA 96001
Rick Rawlins
Retired
Anderson, CA 96007
Tim Robinson
Robinson Enterprises, Inc.
Nevada City, CA 95959
Larry Strawn
Blue Ridge Forest Management
Redding, CA 96002
Bryan Taylor
Trinity River Lumber
Weaverville, CA 96093
Perry Thompson
Hat Creek Construction & Materials, Inc.
Burney, CA 96013.
Jack Thornburg
Columbia Helicopters, Inc.
North Fork, CA
Gary Warner
Warner Enterprises
Redding, CA 96003
Steve Wiard **
Castle Rock Forestry
Sutter Creek, CA 95685
Rick Williams
Williams Repair
Anderson, CA
Jeremy Wuerfel
Timber Products Company
Yreka, CA 96097
** Denotes a Past President
Dale Orchard, 2019 SCLC President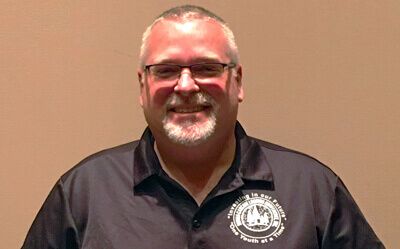 Special conference-only room rates
Sierra-Cascade Logging Conference has a special room rate discount for the conference week at Win-River Casino. You must call for this rate – it's not available online. Be sure to tell them you are with Sierra-Cascade Logging Conference prior to making your reservations.

These rates are good until one week prior to the conference.
×
SCLC History – This is Our Story