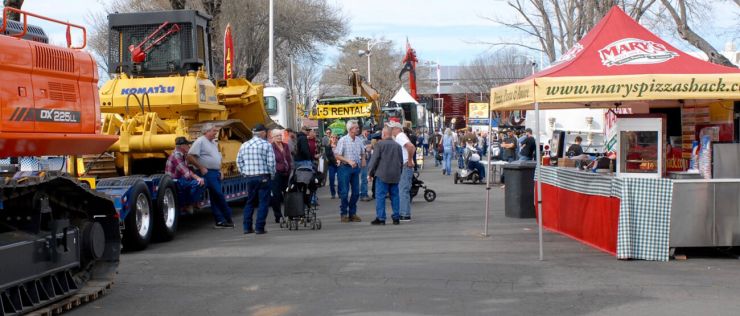 Every year the Sierra-Cascade Logging Conference and Equipment Show is host to a wide variety of fantastic Exhibitors. From heavy machinery to hearty snacks, the annual SCLC Expo is proud to organize a diverse experience for our guests -- with Exhibitors at the center.

Below you will find a collection containing some of the Exhibitors of yesteryear.
---
5D Solutions Inc.
Advanced Power Redding
Al's Saw Shop, Inc.
Albina Asphalt
American Truck School
ATHS Sierra Nevada Chapter
Bailey's Inc.
Bakers Choice Kettle Korn
Bejac Corp.
Beyond Welding & Fabriction
Bobcat Central
Cal Fire
California Highway Patrol
California Licensed Foresters Assoc.
California Trucking Assoc.
Clayton's Towing
Contech Engineered Solutions
Cramer Truck Permit Service
Cross Petroleum
Crown Motors
Cummins Sales and Service
Diamond Mowers
Edward Jones
Enoven Truck Body & Equip
Enviromental&Lubrication Solutions
Family Chiropratic
Fiesta Fresh Grill
Fleetpride
ForestryTrader
Fumoto USA
General Trailer Parts
Haix North America
Hamre Equipment Co.Inc.
Hansen Pressure Waeher & Machinery
Healthy Forests, Healthy Communitites
Holt of California
Holt of California' Redding
Jere Melo Foundation
JK Boots
Keiths Towing
Kettle Korn
King's Way Sales & Marketing
Legacy Finance Group
Les Schwab Tire Center
Loftness Mfg
Logger's Association of Northern CA
Lucky Logger
Lulu's
Nor Cal Antique Tractor Club
Nor Cal ATHS
NorCal Kenworth
Northstate Equipment
NW Turkey Foundation
Pape Machinery, Inc.
Pat Cramer Insurance Agency, Inc.
Peterson Tractor
Ponsse North America Inc.
Premier Water Cleaning Systems
Propel Insurance
Quadco Equipment Inc.
Rapid Span Structures LTD
RDO Equipment
Red Tail Publishing
Redding Freightliner, Inc.
Redding Yamaha
RGW Equipment
Richie Bros. Auctioneers
Road Machinery LLC
Roberson & Sons Insurance Services
Sawyer's Choice
Schinnerer Ins. Services, Inc.
Shane Company
Shasta Cattlewomen .
Sierra Pacific Windows
Spurgeon's Embroidery & Silkscreening
Summit Attachment & Machinery
Tehama Tire Service
Thatcher Fishing Guide
Timber West Magazine
Tip Top Service
Valley Pacific Petroleum Services
Valley Tire
VSS Emultech
Waratah Forestry Attachments
Ward Insurance
Western Truck Center
Western Truck Parts & Equipment Co.
Women in Timber
Wood-Mizer LLC.

After Market Parts Supply | Yreka, CA
Al's Saw Shop, Inc. | Redding, CA
Bamford Enterprises, Inc. | Oroville, CA
Bejac Corporation | Anderson, CA
Bobcat Central, Inc. | Stockton, CA
Bobcat of Redding & Chico | Chico, CA
Bret Hussell Fabricating | Ashland, OR
CabGuard Truck Parts | Anderson, CA
California Highway Patrol | Redding, CA
California Trucking Association | Sacramento, CA
California Women in Timber | Korbel, CA
Clayton's Towing | Anderson, CA
Contech Engineered Solutions | Redding, CA
Pat Cramer Insurance | Anderson, CA
Cramer Truck Permit Service | Anderson, CA
Cross Petroleum | Redding, CA
Crown Motors | Redding, CA
Cummins Pacific | Redding, CA
Diesel Emissions Service | Redding, CA
Dunlap Enterprises | Soulsbyville, CA
Enoven Truck Body & Equipment | Redding, CA
Family Chiropractic | Redding, CA
Family Water Alliance | Maxwell, CA
FleetPride | Redding, CA
Forest Land Owners of CA | Folsom, CA
General Trailer Parts | Redding, CA
Goodyear Commerical Tires | Redding, CA
Hamre Equipment Co. Inc. | Chico, CA
Hiax North America, Inc. | Lexington, KY
Holt of California | Redding, CA
HydroVent | Redding, CA
I-5 Rentals, Inc. | Redding, CA
Industrial Equipment | Chico, CA
Jeepers Jamboree | Georgetown, CA
Jefferson State Diesel, Inc. | Redding, CA
Jere Melo Foundation | Fort Brag, CA
Edward Jones | Anderson, CA
Keith's Towing | Redding, CA
Laser Technology | Centennia, CO
Les Schwab Tire Center | Redding, CA
Loggers Association of Northern CA | Mt. Shasta, CA
Lucas Sawmill | Willits, CA
National Wild Turkey Federation | Redding, CA
Nor-Cal Antique Tractors | Millville, CA
NorCal Kenworth | Anderson, CA
Northern Valley Pheasants Forever | Redding, CA
Northstate Equipment | Cottonwood, CA
Northstate Truck Equipment, Inc. | Redding, CA
Dan Palmer Towing | Anderson, CA
Pape Machinery, Inc. | Redding, CA
Paul Bunyan Conservation Society | Anderson, CA
Peterson Cat | Redding, CA
Peterson Pacific | Eugene, OR
Pierce Pacific Manufacturing, Inc. | Portland, OR
Quadco Equipment Inc. | Longview, WA
Red Tail Publishing | Anderson, CA
Redding Freightliner, Inc. | Redding, CA
Redding Yamaha SeaDoo | Redding, CA
Ritchie Bros. Auctioneers | Dunnigan, CA
Road Machinery LLC | West Sacramento, CA
Roberson & Sons Insurance Services | Redding, CA
Dana Rochlitz Repair | Anderson, CA
Roger Artistic Design | Anderson, CA
Schinnerer Insurance Services | Sacramento, CA
Shasta Cascade Rail Preservation Society | Redding, CA
Shasta College | Redding, CA
Shasta Garden Railroad | Redding, CA
Sierra Pacific Windows | Red Bluff, CA
Southstar Equipment | Kamloops, CA
Tehama Tire Service | Red Bluff, CA
The Nelson Paint Company | Kingsford, MI
Timber West Magazine | Edmunds, WA
Totally Trucks | Redding, CA
Transfer Flow, Inc. | Chico, CA
TRG Excavation, Inc. | Cottonwood, CA
United Risk Solutions, Inc. | Medford, OR
Valley Tire | Redding, CA
VPG Onboard Weighing | Fall Creek, OR
VSS Emultech | West Sacramento, CA
Vulcan On-Board Scales | Kent, OR
Walberg, Inc | Corning, CA
Waratah | Kelso, WA
Wallingford's, Inc. | Oakland, CA
Western Truck Parts & Equipment | Redding, CA
Wood-Mizer, LLC | Indianapolis, IN
After Market Parts Supply | Yreka, CA
Al's Saw Shop, Inc. | Redding, CA
Amazing Massage | Springfield, OR
Bailey's, Inc. | Laytonville, CA
Bejac Corporation | Anderson, CA
Beyond Welding & Fabrication | Anderson, CA
Bobcat Central, Inc. | Stockton, CA
Bobcat of Redding & Chico | Chico, CA
Bret Hussell Fabricating | Ashland, OR
Buttes Insurance Agency | Live Oak, CA
California Highway Patrol | Redding, CA
California Licensed Forester's Association | Redding, CA
California Trucking Association | Sacramento, CA
Clayton's Towing | Anderson, CA
Contech Engineered Solutions | Redding, CA
Cramer Truck Permit Service | Anderson, CA
Cross Petroleum | Redding, CA
Crown Motors | Redding, CA
Cummins Pacific | Redding, CA
Diesel Emissions Service | Redding, CA
John Dues, CPA | Redding, CA
Dunlap Enterprises | Soulsbyville, CA
Edward Jones | Anderson, CA
Enoven Truck Body + Equipment | Redding, CA
Family Chiropractic | Redding, CA
FleetPride | Redding, CA
Forest Land Owners of CA | Folsom, CA
General Trailer Parts | Redding, CA
Globalstar | Covington, CA
Grandpa's Kettle Korn | Shasta Lake, CA
Hassell Fabrication | Ashland, OR
Healthy Forest/Healthy Communities | Sherwood, OR
Holt of California | Redding, CA
HydroVent | Redding, CA
I-5 Rentals, Inc. | Redding, CA
Industrial Equipment | Chico, CA
It's Jerky | Anderson, CA
Jefferson State Diesel, Inc. | Redding, CA
Jere Melo Foundation | Fort Brag, CA
Laser Technology | Centennial, CO
Left Coast Supplies | Willits, CA
Les Schwab Tire Center | Redding, CA
LeVey Transport | Redding, CA
Loggers Association of Northern CA | Mt. Shasta, CA
Lucas Oil Products | Corona, CA
Lucas Sawmill | Willits, CA
McLellan Equipment, Inc. | So San Francisco, CA
MTECH, Inc. | Chico, CA
National Wild Turkey Federation | Redding, CA
Nor Cal Rentals & Sales, Inc. | Redding, CA
Nor-Cal Antique Tractors | Millville, CA
NorCal Kenworth | Anderson, CA
Northstate Equipment | Cottonwood, CA
Northstate Truck Equipment, Inc. | Redding, CA
Pacific Gas & Electric | Placerville, CA
Pape Machinery, Inc. | Redding, CA
Peterson Cat | Redding, CA
Gordon Peard Jr Trucking | Quincy, CA
PHI Air Medical | Redding, CA
Jason Pedrotti Trucking | Redding, CA
ProTech Industries | La Vergne, TN
Peterson Pacific | Eugene, OR
Reach Air Medical Services | Redding, CA
Pierce Pacific Manufacturing, Inc. | Portland, OR
Redding Freightliner, Inc. | Redding, CA
Quadco Equipment Inc. | Longview, WA
Road Machinery LLC | West Sacramento, CA
Red Tail Publishing | Anderson, CA
Schinnerer Insurance Services | Sacramento, CA
Redding Yamaha SeaDoo | Redding, CA
Shasta College Natural Resources | Redding, CA
Roberson & Sons Insurance Services | Redding, CA
Sierra Cascade Aggregate | Chester, CA
Dana Rochlitz Repair | Anderson, CA
Southstar Equipment | Kamloops, CA
SafeTec Compliance | Vancouver, WA
Stifel Nicolaus Investments | Redding CA, CA
Shasta Cascade Aggregate & Asphalt Products | Chester, CA
The Nelson Paint Company | Kingsford, MI
Shasta Garden Railroad | Redding, CA
Totally Trucks | Redding, CA
Sierra Pacific Windows | Red Bluff, CA
Valley Tire | Redding, CA
Spires Enterprises | Redding, CA
VPG Onboard Weighing | Fall Creek, OR
Tehama Tire Service | Red Bluff, CA
Waratah | Kelso, WA
Timber West Magazine | Edmunds, WA
Whit-Log, Inc. | Wilbur, OR
United Risk Solutions, Inc. | Medford, OR
Valley Tool Manufacturing Inc. | Hughson, CA
Vulcan On-Board Scales | Kent, OR
Western Truck Parts & Equipment | Redding, CA
Wood-Mizer, LLC | Indianapolis, IN