2013 Education Day
Posted at 11:32 AM on Apr 4, 2013
---
Education Day begins each year by contacting school teachers to see if they desire to have their fourth grade classes return to the current year's event. We measure success by having an almost unanimous response each year. This year Antelope school from Tehama County had a conflict in their calendar. This vacancy allowed us to invite Grant School to participate.
Jeanne Tomascheski went above and beyond this year by providing poster paper and personal classroom visits to almost every school in attendance. These visits prepare both students and teachers for what to expect during their fieldtrip, what to wear, and how to be safe. I am confident that the classroom site visits have accounted for each and every school being on-time at the fairgrounds to begin their tour.
The weather for Education day was ominous in the morning as guides arrived to receive their tour assignments. It was raining heavily as two large group of resource guides were lead on a "dry run" through the stations they would be chaperoning students through. Even with the foul weather, every guide and every school showed up. Just as the busses arrived, the rain subsided and the students departed the bus to find their leaders in burgundy t-shirts with soaking wet hair. With roughly 100-guides, we were only out numbered 7 to 1, and everyone did their job flawlessly. The rain held off and by noon when the fieldtrip was concluding, the sun emerged.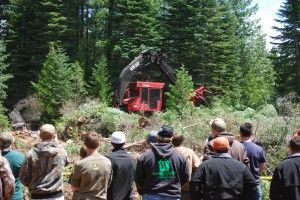 Numerous schools came prepared and continued to enjoy the fairgrounds with a sack lunch in the sunshine. Each bus was outfitted with the gift bags (royal blue drawstring backpacks) toTeachers were very appreciative of the transportation funding (without which they would not be able to attend) and poster contest monies. Last year a class took their poster contest funds to enjoy a pizza party and pay for a fieldtrip to Whiskeytown falls. We had many outstanding posters this year, utilizing the large pulp paper, and the winners were displayed at the education auction event on Friday evening. be distributed to each student when they returned to the school. These contained pencils and bookmarks and seeds, as well as a tree seedling to plant now that they had learned the skills on their tour.
On Saturday, we were informed by a number of presenters that students had returned with their families to enjoy the conference after having a good experience on Education Day.
I will conclude with one teacher's observations shared via email:
"Thank you, once again, for including us in the SCLC Education Day. It was awesome. I was sharing with my Principal that although there were a lot of kids there (Over 500??) we felt like we were always the focus when we were at a stop. You designed everything in such a manner, that we never felt hurried or at a station too long. Your presenters were fantastic. Our students commented on how much they learned about the timber industry. It truly connects all the learning opportunities I provide them with some real experiences! Some commented they were going to bring their parents there this weekend. I hope our students were polite and responded positively to everyone. We look forward to the woods tour this spring." – Dennis Mitchell, Evergreen School
Respectfully submitted:
Ted James
February 20, 2013
| | |
| --- | --- |
| Donated Items for Student Backpacks | Donor |
| Pulp Paper for Poster Contest | Cascade Pacific |
| Brochures | Forestry Institute for Teachers |
| Brochures | California Ag Commission |
| Pencils | PG&E |
| Sunflower Seed Packets | PG&E |
| Tree Seedlings | Sierra Pacific Industries |
| Tree Bookmarks | The Forest Foundation |
| Pencils | The Forest Foundation |
| Activity Book | The Forest Foundation |
| Teacher Curriculum Packets | The Forest Foundation |
| Poppy Seed Packets | USFS |
| Smokey Bear Bookmarks | USFS |
Donated Volunteer Time:
48 Resource Professional Guides from – Sierra Pacific Industries, Crane Mills, W.M. Beaty & Associates, USFS, CA DFG, Cal Fire, Collins Pine, Soper-Wheeler, Applied ForestManagement and Fruit Growers
22 Professional Presenters from – Sierra Pacific Industries, W.M. Beaty & Associates, Warner Enterprises, Red Tail Publishing, Croman Helicopters, Mark Colp Chainsaw Carving, Wood Mizer, Eddie Axner Excavating, Wild Things and Wildlife Safari
12 College Student Guides from Shasta College Heavy Equipment Operators Club and Forestry Club (John Livingston)
34 High School Student Guides from Anderson High School – also bagged all seedlings, sorted items into 700 student backpacks, Tommy 2×4 actor & handlers (Carol Perea)
Education Day Attendance:
Total of 24 Classes (Grant Elementary as a new school)
Total over 700 Students with additional Teachers and Parents
(Shasta, Trinity and Tehama Counties)
Education Day Stations Included:
Wild Things Wildlife Show
Logging Sports Demonstration
Bejac Equipment
CAT Equipment
Tigercat Equipment
Log Loading Demonstration
(2) Tree Planting Demonstrations
Steam Donkey
Log / Lumber Trucks with Tommy 2×4
Croman Helicopter
Saws Demonstration (Historic to Present)
Safari Wildlife Trailer
Hydrophobic Soils Demonstration
Wood Mizer Sawmill
Chainsaw Carver
Backhoe Rodeo Demonstration
Education Day Committee:
Ted James, Jeanne Tomascheski, Shaney Emerson, Carol Perea and Kelly Fredrickson