2017 SCLC Expo Sneak Peek
Posted at 11:22 AM on Oct 20, 2016
---
The Sierra-Cascade Logging Conference is gearing up for the 2017 Expo, so things are going to be rolling out as we finalize everything. Online Registration is on its way (but not quite ready yet!) so in the meantime we put together some flyers for the upcoming events. Take a look!
---
PDF not displaying properly? You can download it for offline viewing below.
Jim Henson, 2018 SCLC President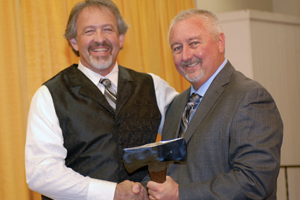 Special conference-only room rates
Sierra-Cascade Logging Conference has a special room rate discount for the conference week at Win-River Casino. You must call for this rate – it's not available online. Be sure to tell them you are with Sierra-Cascade Logging Conference prior to making your reservations.

These rates are good until one week prior to the conference.
×
Joe Max Higgins, 2018 SCLC Keynote Speaker
SCLC History – This is Our Story