2017 SCLC Log Loading Skills Competition
Posted at 12:28 PM on Mar 28, 2017
---
The 2017 SCLC Log Loading skills competition was bigger and better than ever. With the addition of Linkbelt and Doosan Loaders to our traditional John Deere sponsor, participants first qualified and then competed in head to head eliminations to determine this year's champion.
Headlining the event promoted by SCLC and Warner Enterprises, Inc., were Pape Machinery(John Deere), Bejac Corporation(Linkbelt) and Cascade Trader(Doosan) who generously supplied the log loaders for the competition. 13 competitors qualified to enter the afternoon eliminations. The new Head to Head format provided some amazingly close finishes, with one heat even ending in a tie. Last year's champion, Brian Chipps from McKinnleyville, was knocked off in the semifinals by newcomer Clint Miller of Yreka. But Miller fell short when Ricky Covey, Sr. avenged his heartbreaking loss last year by beating Miller in the Final. Covey's son, Ricky Covey Jr., took 3rd place honors when he defeated Brian Chipps in the Consolation match. Tony Foglio from Chehalis, WA took home 5th place with a close victory over Zane Clare of Burney.
The heavy equipment class from Shasta College provided support for the event along with Dale Watt of Watt Industries and Jody Kerns and Hal Williams of Warner Enterprises. Ricky Covey Sr. was awarded the $1000 first prize along with a carved log loader trophy from Wooden Creation's artist Mark Colp. Events sponsors included: Lucky Logger Apparel Co, Columbia Helicopters, WBCO Electrical Services, Burney Transportation, Shane Co, Dill's Deli, Jeepers Jamboree, BBW and Associates and Trinity River Lumber.
1st Place-Ricky Covey Sr., Cottonwood CA
2nd Place-Clint Miller, Yreka CA
3rd Place-Ricky Covey Jr., Cottonwood, CA
4th Place-Brian Chipps, McKinleyville CA
5th Place-Tony Foglio, Chehalis, WA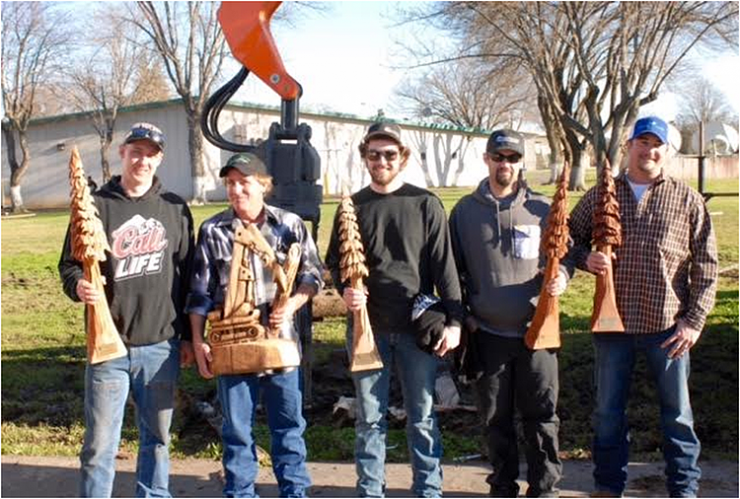 Photo courtesy of Steve Jolley