2018 SCLC Crummy Show-N-Shine Contest
Posted at 3:37 PM on Dec 21, 2017
---
Sierra Cascade Logging Conference 2018 Crummy Show-N-Shine

*Chance to Win*

Pickup Truck of any make/model/bed length (Suburbans and Vans Ok)
4 Door and at least 5 passengers (Crew Cab pickup or Suburban/Van)
Company Name on Doors
Clean Inside & Out
Vehicle & Company Description Posed on Window
Old/Character Welcomed
One Entry Per Company
Top three (3) winners receive a Sportsmans Warehouse Gift Certificate
The top 20 Applicants will be chosen to show their Crummy at the Conference, February 6th-10th, 2018 in Anderson, CA.
See Application form below for details.
IMPORTANT: The start date has been updated to February 6th, 2018.
The application may reference the original, unchanged dates.
In the event of a mis-match, defer to the information presented on the website, as it will be the most recent.
Jim Henson, 2018 SCLC President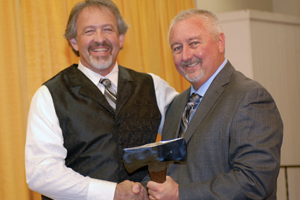 Special conference-only room rates
Sierra-Cascade Logging Conference has a special room rate discount for the conference week at Win-River Casino. You must call for this rate – it's not available online. Be sure to tell them you are with Sierra-Cascade Logging Conference prior to making your reservations.

These rates are good until one week prior to the conference.
×
Joe Max Higgins, 2018 SCLC Keynote Speaker
SCLC History – This is Our Story