2018 SCLC Expo Sneak Peek
Posted at 1:22 PM on Sep 11, 2017
---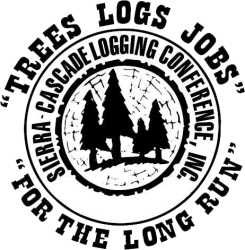 "Trees, Logs, Jobs For the Long Run"
2018 Conference Sneak Peek
Thursday, Feb. 8th - Saturday, Feb. 10th, 2018
2018 Theme – Trees, Logs, Jobs For the Long Run
The Lumberjack Banquet and Education Auction will be held at the Redding Convention Center;
The price for a single dinner ticket will be $65.00 for members, $75 for non-members;
Table of 10 will be $650 for members; $750 for non-members;
In addition to the week-long Silent Auction with mobile bidding, a traditional Silent Auction will be held at the dinner;
Wear your dancing boots, there will be a country western band playing from the end of the Auction until Midnight;
This year the raffle will have a first prize of 4 guns and a second prize of a $1000.00 Gift Certificate to Sportsman Warehouse. Tickets $20 ea., only 1500 will be sold.
Along with the traditional competitions and exhibits, and shows, the Strongest Logger competition is set to return.
Check the website in the coming weeks as we begin to make available Registration, Exhibit, Sponsor and Class information.

Jim Henson, President
Sierra-Cascade Logging Conference