67th Annual Sierra Cascade Logging Conference Event Results
Posted at 7:57 AM on Feb 25, 2016
---
67th Annual Sierra Cascade Logging Conference: Truck Driving Skills Results
LARGE TRUCK DRIVING SKILLS
1st place Danny Gray
2nd place Trevor Gordon
3rd place Josh Cairns
SMALL TRUCK DRIVING SKILLS
1st place Shelby Murphy
2nd place Kelsey Bickett
3rd place place Rick Williams
67th Annual Sierra Cascade Logging Conference: Excavator Rodeo Results
1st prize Neil Garten | Time of 1096 | MCI, Colfax, CA.
2nd prize Justin Myers | Time of 1225 | Eddie Axner Const. Inc, Redding, CA.
3rd prize Chris Clifton | Time of 1232 |Peterson Cat, Redding, CA
67th Annual Sierra Cascade Logging Conference: Log Loading Skills Results
The Log Loading Skills Competition was won, for the third consecutive time, by Brian Chipps from McKinleyville. Brian works for Green Diamond Resources and narrowly defeated Rick Covery Sr. of Metcalf Logging. Chipps took home the Mark Colp hand carved log loader trophy and $1000.
The final results were:
1. Brian Chipps, Green Diamond Resources
2. Ricky Covey Sr., Metcalf Logging
3. Eric Taylor, Crawford Logging 4. Joe Ruste, Warner Enterprises, Inc.
5. Ricky Covey Jr., Skyline Altertions
67th Annual Sierra Cascade Logging Conference: Golf Tournament Results
Golf Tournament 19 Teams of 4, a total of 76 Golfers
1st


Bob Le Doux
Pat Cramer


Gerardo Hernandez
Brandon Baker


63

2nd

Tom Beam
Jeff Holland


Amanda Neely
Bruce Olsen


65

3rd


John Mills
Joe Dillard


John VanDuyn
Ike Reffel


68
Won Cardoff

Closest to the pin #3: Tim Shaw @ 6'9"
Closest to the pin #17: AJ Hamre @3'10"
Longest Drive #6 Men: Brandon Baker
Longest Drive #6 Women: Amanda Neely
Jim Henson, 2018 SCLC President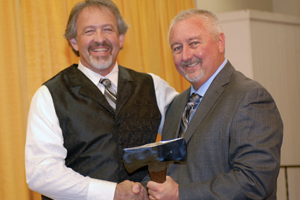 Special conference-only room rates
Sierra-Cascade Logging Conference has a special room rate discount for the conference week at Win-River Casino. You must call for this rate – it's not available online. Be sure to tell them you are with Sierra-Cascade Logging Conference prior to making your reservations.

These rates are good until one week prior to the conference.
×
Joe Max Higgins, 2018 SCLC Keynote Speaker
SCLC History – This is Our Story