SCLC 2015 Gin Fizz Breakfast
Posted at 6:56 AM on Nov 18, 2015
---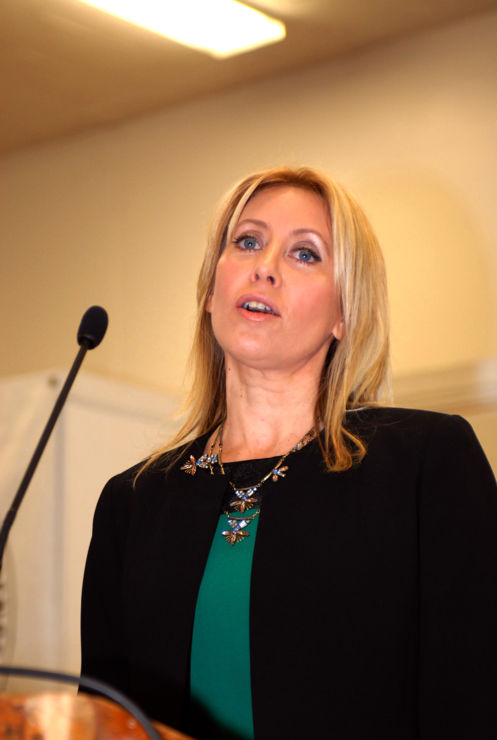 Master of Ceremonies, Dee Sanders, Past President of the Sierra Cascade Logging Conference greeted a sell out crowd at our 66th Annual Sierra Cascade Logging Conference.
Following the Presentation of Colors by the Anderson VFW, Dee led off the program with the Invocation.
First Vice President Jared Tappero read the Memorials followed by a presentation of awards, Jim McCollum Memorial and History Project Update.
Following the awards and update presentations Dee welcomed our attendees and introduced the dignatires in attendance including Todd Gordon, President of the Pacific Logging Congress, who updated us on the Pacific Logging Congress.
President Keith Foster addressed the audience about the conference and assisted in the presentation of the working Ax to 2016 President, Jared Tappero.
Dee then introduced our keynote speaker, Leah Goold-Haws (pictured, right).
Leah Goold-Haws is currently the Deputy Sector Navigator for Global Trade & Logistics, in Far North California as part of the "Doing What Matters Initiative".
This initiative of the California Community Colleges Chancellor's office is part of a state-wide effort for jobs and the economy. Leah is part of the CITD (Centers for International Trade Development) network and consults with businesses involved in global trade, promotes international business courses on behalf of the community college system, assists small business in developing global entry strategies, and increases exposure to global trade and logistics opportunities throughout the region. You can find out more about this initiative at
http://doingwhatmatters.cccco.edu, and connect with Leah at http://www.exportnorcal.com or on LinkedIn.