Students spend a day in the woods
Posted at 12:15 PM on May 31, 2014
---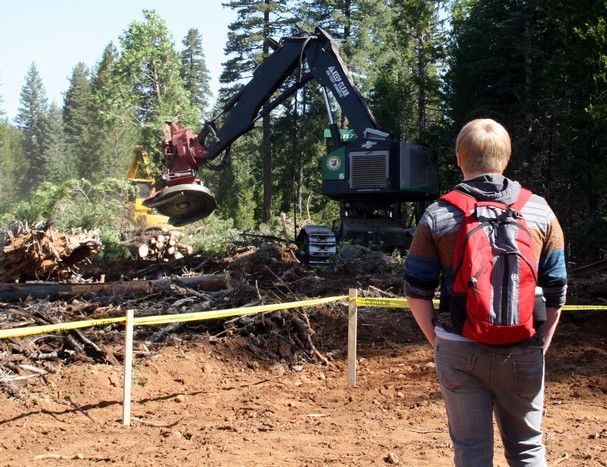 This article was originally posted in the Anderson Valley Post
Registered foresters, wildlife biologists, heavy equipment operators, Shasta College Instructors and other forest management professionals all provided an exciting and highly educational In-Woods Demonstration to more than 600 students, parents and teachers as the culminating activity of the Sierra Cascade Logging Conference for 2014.
May 7th and 8th , school buses traveled to a site just east of Shingletown where demonstrations of tree planting, tree cutting and the use of modern day logging equipment, along with discussion regarding the science applied to forest management and environmental planning for future forest sustainability were fully demonstrated.
This experience represents what all schools in the nation have their focus upon, S.T.E.M., the acronym for Science, Technology, Engineering and Math.
Sierra Pacific Industries, along with Creekside Logging, provided local students and educators with a day that was S.T.E.M. in action!
Students were amazed at the variety of sciences that are employed by Sierra Pacific Industries and those in the Forest Management Industry and the care they take to ensure the health of their forests, the water, the air , historical sites, and the land.
Anderson Union High School student Michael Bridges commented, " I had no idea how many trees they plant to replace what is harvested, and the equipment is amazing. The efficiency in how they cut the trees and load them on the trucks was really impressive."
The one-on-one conversations with professionals, the sights, the smell of fresh wood and the whole experience will stay with these students forever, some of whom had never been to a forest. Many students were not aware of the care foresters take in planning for the future and that the trees they plant will not be harvested during their life time and how much on-going research is done to ensure the health of the species that inhabit the forest.
Students reflected upon past generations of family members who had either worked in mills or were attached to the timber industry, and it brought back fond memories of previous generations. The Sierra Cascade Logging Conference provides local students and educators an exceptional opportunity and this concluding activity was a live demonstration of Science, Technology, Engineering and Math as it is applied by a local industry.